Who hasn't pretended to be a warrior, a policeman or a princess in their childhood? While most of us have left that in the past, for some this has become the daily routine. The possibility to remain anonymous on the Internet has opened the doors for many scammers to find their way to extort money from the unsuspecting Internet users. How often do you get e-mails or messages asking to help get the inheritance for a rich prince/princess?
With the crypto-market blooming, scammers create false identities and pose a serious threat to crypto-enthusiasts. How should we secure ourselves from falling into one of the impersonation scams? There are several ways these scams work, so deepcoin is here to review them and advise how to stay safe with the coins in your wallet.
THE CLASSIC TWITTER SCAM
Twitter is a sure go-to platform if you want to follow the news of the cryptoworld as most prolific influencers all post there. Naturally, just like with the crowded street and the pickpockets, the mass of users on Twitter attract a variety of scammers. The majority of Twitter scams follow a similar path.
The scheme is simple:
     The scammer creates a fake account that resembles or copies the original

     Asks to send coins to a particular address

     Promises to multiply your submission and send back more coins

     You send the coins

     You never see them again
Take a look at the scam example below: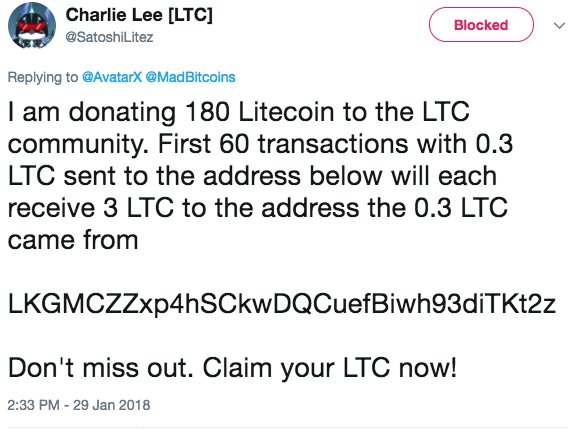 The impersonator's goal is to make you believe they are a real well-known person such as Vitalik Buterin or Charlie Lee by cleverly copying the original account. They are likely to use the same profile photo, same display name, however, their username will be slightly misspelled, for instance, lowercase "L" and capital "i" look almost identical and may be difficult to spot. Some fake usernames may have extra letters or perhaps missing some. Take a look at the example below: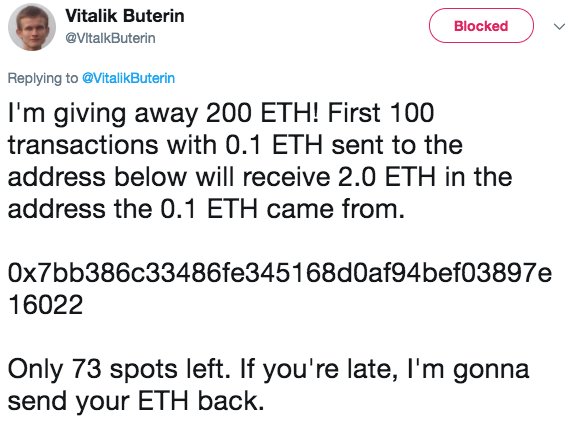 If you noticed the difference straight away – that's a step into the right direction. If you didn't… keep reading.
After a successful recreation of the original account, the impersonator will go for one of 2 potential ways to scam you:
Message you directly with their "special offer".

Post their "give away" in the comments section of the original account's post (look above for the example).
In either of the scenarios the offer should logically look "too good to be true". And let's be honest, nothing in this life is free. So it's essential to think before acting.
Additionally, sending coins to an address which is nearly impossible to trace will leave you not only coinless, but also without an idea to whom you actually gave them. This sadly means you will end up having no recourse with the scammer.
The Verge has previously reported that Twitter is taking measures to stop this activity and are promising to block the impersonators straight away. However, impersonators appear not only on Twitter, but they can potentially create fake accounts on other platforms that the original influencers have nothing to do with such as Telegram, Facebook or Instagram. Therefore, you should always know your source and be cautious about following the same person on many different platforms. In the case of Vitalik Buterin, he explicitly stated that he only uses Twitter and Reddit yet on Facebook there is a number of fake accounts created that could potentially try to scam people.
To raise awareness to the potential of scam, over 50 of the most famous Twitter crypto-celebrities added "not giving away ETH" or similar next to their name since the number of scammers started to become rather overwhelming making it time consuming to report or block them.
THE DANGERS OF TELEGRAM
Telegram has undoubtedly become the favorite messaging platform for crypto-enthusiasts. At that, it has become essential for ICO (Initial Coin Offering) driven projects to engage with their community through Telegram. This gives the scammers another chance to attempt getting the coins from you.
As ICOs hope to find potential investors through Telegram, their channels are normally set up in a way that there is a responsible person to answer all the inquiries. Their official title should be Admin. Given that the groups are open to all, scammers don't need to jump any hurdles to access all the users who are active including the admins.
Telegram's impersonation scam is quite similar to what we have observed on Twitter. In normal cases it goes like this:
The scammer creates a fake account that resembles or copies that of the Admin

Gains your trust by impersonating the Admin

Asks to send (or "invest") coins to a particular address

Promises a bonus

You send the coins

You lose them
It is not very easy to spot the impersonator as they cleverly copy the Admin's account and use similar spelling of the username. Look at this example below:
Did you notice a capital "O" instead of a zero? This and similar username technique is widely in use, so pay close attention. Another way to spot if the said Admin is real or not is to simply check the indicator as Admins are always separated by the tag like in the example below:
If the scammer managed to fool you with their appearance, they will most likely try to gain your trust by making sure they come across as authentic to Admin as possible. If such is the scenario, you will soon be asked to send coins to a particular address. Unfortunately, if you do, the coins will never be seen again.
TELEGRAM'S IMPERSONATION
Even more peculiar things started happening when rumors about Telegram's ICO surfaced at the end of 2017. As Telegram itself kept it all under the rug, the hype surrounding a potentially great investment opportunity attracted numerous scammers.
As the Whitepaper has leaked, the scammers also obtained useful authentic information for them to scramble and that is how tgram.cc, gramtoken.io, gramtoken.tech, ton-ico.com, grampreico.com, ton-gram.io and many others were created to look like legitimate Telegram pre-ICO sales websites which many people fell for. In this situation, the scammers only needed to specify the address where the funds should be going and people voluntarily sent the coins. One of the fake ICOs has supposedly extorted $5 million worth of coins, according to Forbes.
In the meantime, Telegram has been doing a pre-sale privately and no official statements about the ICO surfaced. The founder of Telegram Pavel Durov took to Twitter to inform people about the potential of scam.
Investing in ICOs is itself a risky business, but it is especially so with the highly hyped projects such as Telegram which scammers understand as well. It is important to be especially cautious if you are planning to invest.
PROTECT YOURSELF
You can follow several simple steps to protect yourself from impersonator scams:
KNOW YOUR SOURCE


Always make sure that you are dealing with the official representative/channel. Carefully check the spelling of the username, look for any tags (like

Admin

), etc.

RESEARCH


There may be others that fell for a similar scam. Check the forums, message boards, etc. You can also check the address on websites like

Etherscan

which the community uses to post fake/scam addresses to see if there is any comments on it.

THINK BEFORE ACTING


If the deal looks too good to be true then it's probably fake. Take a moment to think about it before sending your coins anywhere.

USE DEEPCOIN PROTECT
Finally, the easiest way to protect yourself from phishing and impersonation scams is to use the Chrome extension deepcoin Protect that will alert you about whether the websites and channels you're visiting are official and  have been approved by the projects themselves.